The lengthening shadows of a July afternoon, reach across from the makeshift platform to Luxeuil abbey. The crowds hush, the tannoy whistles momentarily as one of the leading politicians of the age rises to speak. Around him are many eminent European statesmen. He has called them to this abbey in central France for a conference – or more precisely, a piece of sacramental political theatre. This is 1950, and Robert Schuman is about to call up the spirit of a 6th-century Irish monk in the fight to save Europe from an apocalyptic Third World War. Saint Columban, who founded the abbey, was eventually extradited from the region as a trouble-making immigrant. And now, thirteen centuries later, a French Foreign Secretary will use this Irish émigré as a poster child for the most daring political project since the league of Delos unified the Greek city states. He is clearing his throat and approaching the microphone. In that pause between breaths, the politicians of Europe hear a collared dove cooing somewhere very near them in the lime trees. For the briefest of moments, they look up – as all Europe looks up. And they together discern the sound that a few years back they thought they would never hear again. It is the dove of peace.
We shall return to this moment in chapter 16. But suffice to say for now, the improbability of this event, its epoch-making results and the personalities involved form the grist of our story. And with that said, let us now begin by fast-forwarding to the same month 66 years later.
Britain 2019
In the French language, everything that is good is feminine. But even they refer to our departure from the European Union as le Brexit – which is rather touching when you think about it.
But for good or evil, Britain is leaving the EU in 2021. And during the long and acrimonious divorce, I decided to do what I did not have time to do during the furore of 2016. I wanted to take a look through the long telescope of history and to ask the questions that I could not quite articulate during the hubbub of the referendum. Like others, I found it hard at times to differentiate between being European and being in the E.U. But even then, I still wanted to understand what, if anything, was so special about this group of nations that we call Europe. And more than that; what is the philosophical and historical consciousness that formed such a singular culture and civilisation? And how many strands of memory; sociological, legal, ethnic, historical and religious bind us together? And of course, how much of this, if anything, would be affected by our leaving? The islands of Britain have always stood in a peculiar relation to their neighbours for good or ill, and sometimes both at once. But how much have we Britons helped to make them who they are over the last 2000 years? And how much have they made us who we are?
In 2017 these questions, and many others haunted me. I, like many, had felt deeply inadequate to vote on something so momentous when I was so ignorant. And even though the moment has passed, I still believe this book could go some way to help us post-Brexit-Brits to appreciate, not just our own unique position in the European story, but also the depth and richness of our neighbours' stories that still define us. Like the French philosopher Paul Ricoeur1, my hope is, to achieve some level of 'self-understanding by means of understanding others.'2 An island, like ours, on the edge of a great landmass must not only exalt in but also 'conquer a remoteness'3 of outlook. This 'Anglo-Celtic archipelago' must overcome a dual distance; firstly, between itself and its European partners, and secondly, between itself and its own history. Whatever the next decade will be for us, surely it cannot be a time of geographical and historical parochialism. A regiment may move some distance without its allies, but it cannot be severed from the supply train at the same time. Some speak as if our only concern should be economic. Brexit will certainly do many things. And one might be to shake us out of our present rootless amnesia and send us searching for the great supply train of our rich history. People with dementia cannot plan for the future, says Philosopher Alain de Botton. Herein lies a great part of our challenge – to reverse-engineer our cultural amnesia.
COLUMBANUS (543-615)
This book makes tentative steps to address both tasks. My modus operandi may seem unorthodox at first glance but there is method in it. I want to follow two eyewitnesses – an Irish monk and a French politician – who, to my mind at least, form key historical markers at either end of our European consciousness. This consciousness first arose after the collapse of the Roman Empire, and then finally took root in the rubble of two nigh-apocalyptic world wars. In observing these two witnesses within the crucible of two 'dark ages'4, we catch a greater perspective of our own dilemma.
These eye-witnesses are two extraordinary, yet relatively unknown men, who by their tenacity and – and dare I say – humility, played key roles in saving the European civilisation of their day. We talk about it, but these men literally moved the hour-hand of history. The first, as already mentioned is the 6th-century Irish monk Columban who often found himself acting as a reluctant statesman. The second is the 20th-century French statesman Robert Schuman who very nearly became a monk.
This book will be our Tardis and in it we will travel, chapter by chapter, up and down the time corridor like Dr Who; back and forth between these two 'Dark Ages', two epochs, and two unsung heroes. Caught, as they were between the great hinges of history, and as we are – between amnesia and memory – maybe we shall eventually return to the 21st century with a new perspective.
The first is Columban or Columbanus (543-615), patron saint of bikers and bad boy of medieval monasticism. More dissenter than revolutionary, Columban was a poet, preacher, prophet, polemicist, scholar, saint.5 Alongside Charlemagne, Columban has been referred to as the greatest man of the Middle Ages.6 His surviving literary corpus alone places him head and shoulders above his contemporaries as the first great Irishman of letters.7 But it was as a monastic founder that we owe him the greater debt. He undertook a voluntary exile from his homeland and, through a missionary odyssey in France, Germany, Austria and Switzerland, finally came to the valley in Italy that Hemmingway declaimed 'the loveliest in the world.'8 The five houses he founded on the continent multiplied to perhaps as many as two hundred Schottenkloster (Irish Monasteries) that became so critical in the preservation and transmission of scholarship, faith and literacy over the next two crucial centuries. In fact, nearly all surviving 7th and 8th century manuscripts from continental Europe are indirectly due to this one man's monastic legacy.9 
He was also the first of his countrymen to express an Irish sense of identity in writing and the first to articulate for us the concept of a united Europe – making reference to Totius Europea flaccentis augustissimus – 'all of decaying Europe' – in a letter to the Pope.10 At about the same time, and using a biblical metaphor11 in a letter to the disgruntled Frankish bishops, he even gives a Christian basis for a supranational understanding between European nations. 'We are all members of one body, whether Franks, or Britons, or Irish or whatever our race.' So even as far back as 600AD, when Europe was still reeling from the barbarian migrations, and 50 years of plague that halved its population, we have this Irish immigrant claiming openly that that we Western Europeans already owe to each other allegiance that supersedes (though not replaces) racial and national identity. The historian Norman Davies wrote that Columbanus was 'the first to conceive of Europe as a civilizational unit centred on Rome.'12
According to the medieval scholar Dr Alex O'Hara, Columban was also 'a forceful advocate for unity and tolerance in the divisive and violent world of his day. As an immigrant in the heart of Europe, he pleaded for toleration and accommodation. His example had a surprising influence on Robert Schuman, the post-war French foreign minister and architect of the modern European Union.'13
ROBERT SCHUMAN (1886-1963)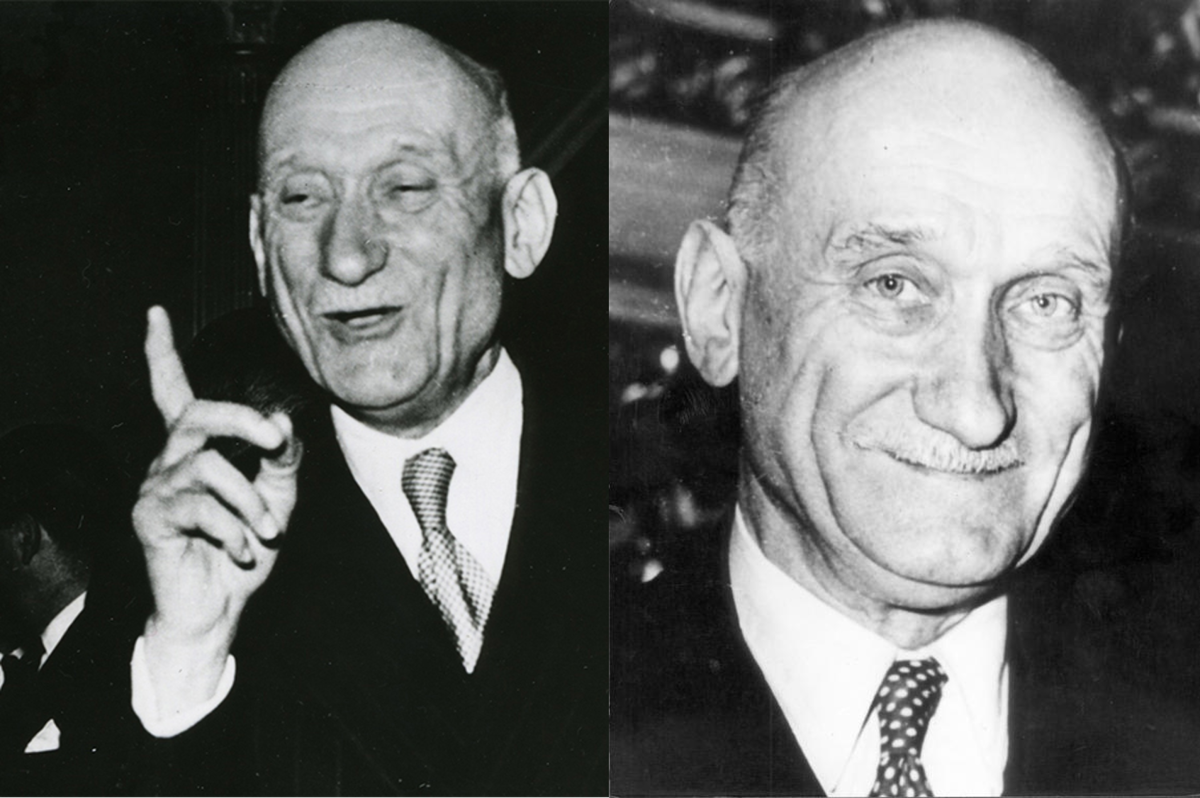 Robert Schuman (1886-1963), is the second 'eyewitness' whose life and times I wish to retell in this book. Schuman broke-out of Nazi incarceration after seven months in solitary confinement evaded the Gestapo in a daring solo escape across the Vosges Mountains, and then rose precariously after the war to become the French Foreign Minister and a founding Father of the EEC. His life, and that of two other co-founders14 form – at least from a historical novelist's point of view – one of the most thrilling, moving and uplifting stories in any political history of any era.
Both Columban and Schuman were men of steely determination, neither ever married, and both came to the major work of their lives in middle age – which should give some of us hope. In some nebulous way they form the brackets, or bookends, of the European experiment; Columban at the inception of Totius Europea, and Schuman at the cementation of that pan-national fiction into a political and economic reality.